http://www.investors.com/editorial-cartoons/michael-ramirez/645725
You know, to hear some people tell you about the sequester,
we're DOOMED
! March 1 will be here soon. What do you think will happen?
I think this pie chart really puts the cuts in perspective. They're not really that big. To put it another way, this year, the cuts are $85 billion, leaving the government with a nearly $3.6 trillion budget.
In fact, under the sequester the government will spend about $60 billion more than it did in 2008 just on what are called domestic discretionary programs — like education, law enforcement, highways and the environment. That's an increase of more than 10%.
I understand that the sequester is going to cut across the board. Good programs that don't waste money will lose funding along with the wasteful, useless, bloated programs. But the government will spend more the year after. The spending is set to increase at the same rate as always. We're just having a one-time cut, then we'll continue to spend more each year.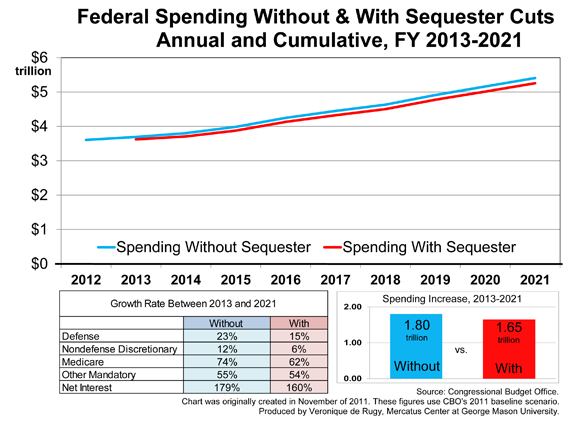 We're driving towards a cliff, and instead of accelerating at full speed, we're just going to tap the brakes for a second, then accelerate at full speed again. Maybe we are DOOMED. Just not the way people are saying.