One of college football's best games of the year is today.
At 3:00PM today, Army and Navy meet
for their traditional battle. This game represents everything good in college football: teamwork, sacrifice, and discipline. No one from this game will be going to the NFL next year. No one will be getting a big paycheck and driving a fancy car next year. They'll be going into harm's way.
All the graduating seniors (or first-classmen) will be going into their commissions as officers with either the Army or Navy. These boys play football because they love their school, and they love the game.
It's what college football is all about.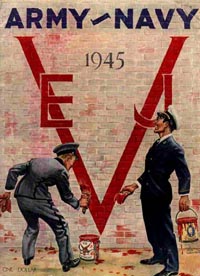 Army-Navy Program from 1945
For over a hundred years, West Point and the US Naval Academy have played each other. However, in the recent years, the series has been one-sided, with Navy winning the last eleven games.
Pretty much everyone in my family comes from the Army side of the military, so I'll be cheering for the Black Knights to break the losing streak today.
GO ARMY, BEAT NAVY!