I saw this tweet yesterday, and it really just struck me as absurd.
Trump reminds me of the character Bruce Willis plays in Die Hard. Brave, heroic, rough around the edges with heart of gold, no BS guy.

— Bill Mitchell (@mitchellvii) September 21, 2016
So this guy, Bill Mitchell, whoever he is, thinks that Donald Trump is John McLane. By the way, who in the heck is this Bill Mitchell guy?
Is Donald Trump like John McLane?
No, no he is not. This is an easy one, folks. Just put Donald Trump in the movie as himself. What would he have done? He would have been about middle-aged in the early 80s, so it's easy to transport him into the story, celebrating at a party in some high-rise building in Los Angeles.
Would Trump have fought off the bad guys, disrupted their plans, figured out their plans, and then saved his wife? Um, no. Donald Trump would have been this guy:
Continue reading below the jump.
If Trump is a character in Die Hard he's clearly the coked-up, pompous Harry Ellis who tries to negotiate with Hans.

https://t.co/TzW7yc4E3J

— Bryan Caskey (@BryanCaskey) September 21, 2016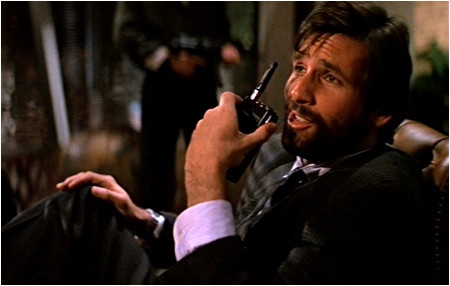 This is who Donald Trump would have been.
It's so obvious. Harry Ellis, the coked-up, pompous stereotype of the 1980s businessman is exactly who Donald Trump would have been in this movie. Harry thinks he can go in and negotiate a great deal with Hans. Trump thinks he can negotiate a great deal with Putin.
Harry thinks this is just a business deal, and that by the sheer force of his personality, he's going to solve the problem. Harry's a pompous jerk who thinks he's god's gift to everyone. Is this starting to sound familiar to anyone else?